A Joint ACI-ICAO Professional Accreditation Program
ACI and ICAO's long-standing partnership provides the industry with competency-based training on latest industry standards, ICAO Standards and Recommended Practices (SARPs), international regulations and ACI best practices.
The Airport Management Professional Accreditation Program (AMPAP) is an executive development program for airport managers worldwide that promotes the adherence to the highest professional standards, covering all functional areas of the airport business. Graduates earn the International Airport Professional (IAP) Designation.
The program's objective is to develop and recognize senior airport managers, airport regulators, and ACI World Business Partners who have demonstrated an understanding of professional excellence in airport management, relevant ICAO SARPS, and maintaining ACI industry best practices. The internationally recognized IAP designation recognizes an individual's excellence in airport management and proficiency in applying ACI best practices and ICAO SARPs.
AMPAP Application Requirements and Process
Applicants to AMPAP must currently hold a management or executive level role in a civil or military airport, ACI World Business, or at ACI or ICAO.
The process begins by filling out the application form for review by the AMPAP Registrar and paying the application fee. Once your application is accepted, you will be registered for the Global Air Mobility Systems course before taking the three other mandatory courses. The AMPAP candidate selects two additional elective courses from a list of AMPAP Steering Committee-approved electives. All courses must be completed per the completion timeframe.
The program's four mandatory courses and two electives-focused specializations make for a highly customizable program that students can tailor to their career goals. At the same time, the asynchronous coursework allows them to set their schedule. AMPAP can take up to three years to complete, which means you can reap the benefits of this ACI and ICAO-accredited program while still working full-time.
Candidates are required to self-select up to two approved electives courses. Due to their duration and commitment, the ACI-JMSB Airport Executive Leadership Program (AELP) and ICAO-JMSB Aviation Security Management Program (AvsecPM) each count as two electives.*
Classroom and/or Virtual Delivery
*Elective requirement is waived if the participant has successfully completed the ACI NA, US Airport Professional Program (USAP) or holds the Airport Accredited Executive AAE designation.
All mandatory and elective courses must be completed within 3 years (36 months) of starting the Global Air Mobility Systems course.
AMPAP Faculty and Course Content
The expertise of industry-leading ICAO and ACI instructors and ACI and ICAO subject matter experts guarantees the quality of training.
All course content is developed and updated by ACI and ICAO based on leading practices in aviation management along with ICAO's international Standards and Recommended Practices (SARPs) and approved by the AMPAP Steering Committee.
Gordon has over 38 years of unique experience in senior airport management positions, including 7 years as Head of Airport Development Asia Pacific for IATA. With a blend of airport and airline exposure, he brings a balanced approach to his work. He has delivered aviation-related courses globally as an approved instructor for several global institutes like ACI, IATA, and GCAS.
Igor Štimac, Ph.D., IAP, AvMP
Igor is an experienced Aviation Expert and Doctor of Transport & Traffic Sciences, employed at Zagreb Airport Ltd. as Vice President & Director of Airport Operations. He has extensive expertise in Airport Operations, Capacity Planning & Design, and Environment & Sustainability in Aviation. Additionally, he is a professor at the Faculty of Transport & Traffic Sciences, involved in various aviation organizations and currently pursuing an Executive MBA program.
Gaël is a legal and aviation expert with experience in international affairs. He currently serves as the Director of Public and External Affairs at Geneva Airport, overseeing strategic matters and collaboration with authorities and aviation organizations. He is actively involved in ACI EUROPE and ACI WORLD, advocating for airport support and development. Additionally, he has published articles, speaks at conferences, and holds an INSEAD certificate in global management. Apart from his professional accomplishments, he is a Swiss Air Force commander and a licensed private pilot.
Debbie is an experienced Airport Management professional with over 30 years of expertise. She currently serves as the Operations and Safety Director at Airport Solutions Ltd, specializing in Aerodrome Development, Operational Procedures, and Aeronautical Studies. Debbie has worked extensively in the Middle East, collaborating with Dubai Airports and other regional airports. She is also involved in Customer Service training and improving the overall passenger experience. Additionally, she holds qualifications as an Aerodrome Auditor and Trainer in Airport Operations, Safety Management Systems, and Emergency Planning for ICAO and ACI.
Arturo is the COO of Avports, overseeing 11 airport locations in the US. With 20+ years of experience in aviation and aerospace, he excels in airport operations, customer experience, and sustainable management. He has worked in various roles, including with Aena Aeropuertos, Acciona Airport Services, and ACI World, leading teams and consulting on airport operations and service quality globally. Arturo has also been involved in US public-private partnerships and holds a Master's degree in Aerospace Engineering, along with ACI-ICAO accreditations in Airport Management and Aviation Security.
Joe has 40 years of experience in the military, public, and private sectors with a focus on Aviation Security. He has worked in various roles, including Security Manager at Hong Kong Airport Authority and Avsec Consultant in multiple countries. As an ICAO accredited Instructor, he conducts Aviation Security audits worldwide and specializes in delivering ACC3 security consultancy services. Currently, Joe serves as the Operations Director at an Aviation Management Consultancy in Hong Kong.
Patrick joined ACI in April 2011 and currently serves as the Vice President of Economics. He has over 20 years of experience in analytics and was previously the Head of the Airport Business Analytics Unit within the ACI Economics Department. Patrick leads ACI's policy positions on various economic aspects of airports, including regulation, charges, privatization, taxation, commercial activities, infrastructure management, and airport slots. He is responsible for overseeing the production of key publications and forecasts related to airport traffic and economics. Before joining ACI, he worked for a United Nations statistical office, contributing to global reports and developing indicators to monitor global development targets.
Jihad Boueri is the Vice President Airports & Communication Sector – Middle East & Africa at SITA, with extensive expertise in Project Management, Solution Architecture, and Bid Management for airports in the Middle East, India, and Africa. He played a key role in designing and implementing systems for major airports like Abu-Dhabi, Muscat, Bahrain, Doha, Istanbul, Riyadh, and more. Holding degrees in Telecommunications and an MBA, he's pursuing a Doctor of Business Administration, focusing on complex ICT projects in airports. Jihad has also completed ACI-ICAO and ACI-Concordia University aviation programs.
Robert is a Senior Lecturer and Course Director in Air Transport Management at Cranfield University's Centre for Air Transport Management. He oversees airline economics, finance, and strategy modules. With experience from the University of Huddersfield and Austrian Airlines, he holds degrees in European Economics, Air Transport Management, and a PhD from Loughborough University. Robert is also affiliated with professional institutes and has Fellowships in logistics, aeronautics, and higher education.
Christine Gideon Mwakatobe
Christine Gideon Mwakatobe has over a decade of experience in Tanzania's aviation industry. She worked as a Business Development Manager for Kilimanjaro Airports Development Company, playing a key role in increasing international airlines served and passenger revenue. Later, she became the first female Managing Director, focusing on public-private collaboration and modernizing airport infrastructure. With an educational background in economics and an MBA from the Business School of Netherlands, she's also an International Airport Professional and a member of the IAP - CoP Board of Directors since December 2020.
PP Singh, a seasoned aviation professional, retired from GMR-DIAL at Indira Gandhi International Airport, Delhi, after 35+ years in airport operations, notably as Chief Airside Officer. With 26 years in Airside Operations and Safety, he led safety initiatives, established Airport Operations Control Center, and contributed to ACI committees. A respected speaker and educator, he holds an MBA and B.Sc., engaging with international airports and imparting ICAO training.
Dr. Thomas Budd is a Senior Lecturer and DARTeC Fellow at Cranfield University's Centre for Air Transport Management. He specializes in airport planning, air transport sustainability, digital transformation, and passenger experience. At the Digital Aviation Research and Technology Centre, he oversees the Passenger Experience and Ground Operations Laboratories, focusing on testing new technologies. He joined Cranfield in 2014, with prior research experience at Loughborough University and the University of Aberdeen's Centre for Transport Research.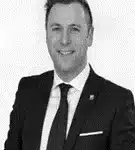 Dimitri Coll became Head of Airport Service Quality (ASQ) at ACI World in October 2015, overseeing the ACI ASQ program, enhancing passenger experience at airports. Holding a BBA and MSc in Marketing from HEC Montreal, he has 20 years of marketing experience spanning diverse sectors. Dimitri also instructs marketing research at HEC Montreal while managing ASQ.
Edgar Jimenez holds a BSc in Civil Engineering (2006), a postgraduate course in Highways and Transport (2008), and a PhD in Transport Systems (2015). He's an expert in airport strategic planning, competition, and sustainable transport. With over 10 years in academia, he's a Cranfield University member, specializing in transport systems, sustainability, and urban mobility.
AMPAP Community of Practice
Students also benefit from joining the global professional Community of Practice (CoP) network through a web-based forum. The IAP CoP consists of an elite group of globally recognized airport professionals who will access these exclusive forums that contribute to the professionalization of airport management.
The ACI/ICAO IAP designation for airport professionals introduced a new way to stay current concerning initiatives throughout the industry. IAP+ indicates an ongoing commitment from graduates who are continually mastering areas within the airport community.
Alumni
Graduates who have completed their designation before 2019 are eligible to apply for the IAP+ at any time by submitting their proof and approved activities. A total of 100 points must be completed in order to attain the reaccreditation. For those who graduated prior to 2019, a period of 5 years will be granted from 2019 to submit their 100 points.
New graduates
Upon graduation, graduates have 5 years to apply for the IAP+ accreditation.
**Graduates who do not complete their 100 points by the designated 5 years will have the opportunity to attend the ACI/ICAO reaccreditation course, providing up-to-date knowledge for professionals.
Whether you take a course, give a speech or teach a seminar, each activity carries points. The wide range of activities ensures that graduates do not have to incur any additional expense. An alternate option will be to take the IAP+ ACI/ICAO reaccreditation course which be offered starting in 2020 for the full 100 points.
| Dates | Course | Location | Least Developed Countries Price | Regular Price | Registration |
| --- | --- | --- | --- | --- | --- |
| 05 - 27 September 2023 | Airport Economics and Commercial Management | Virtual Classroom | UTC - 4 YUL | Mon & Wed, 8:00am - 10:00am (05 September: Tue) | US$1,800 | US$2,000 | |
| 25 - 29 September 2023 | Global Air Mobility Systems | Lisbon, Portugal | UTC +1 LIS | Mon-Fri | 9:00am - 5:00pm | US$1,800 | US$2,000 | Contact us |
| 01 - 05 October 2023 | Global Air Mobility Systems | Riyadh, Saudi Arabia | UTC +3 RUH | Sun-Thu | 9:00am - 5:00pm | US$1,800 | US$2,000 | |
| 03 - 26 October 2023 | Airport Operations, Safety and Security | Virtual Classroom | UTC - 4 YUL | Tue & Thu, 8:00am - 10:00am | US$1,800 | US$2,000 | |
| 14 November - 07 December 2023 | Airport Business Planning and Sustainability | Virtual Classroom | UTC - 4 YUL | Tue & Thu, 8:00am - 10:00am | US$1,800 | US$2,000 | |
| 04 - 08 December 2023 | Global Air Mobility Systems | New Delhi, India | UTC +5:30 DEL | Mon-Fri | 9:00am - 5:00pm | US$1,800 | US$2,000 | Contact us |
Do you have any questions?
Contact us at ampap@aci.aero
ACI has established the Airport Management Professional Accreditation Program (AMPAP) fellowship program to provide financial aid to qualified applicants from member airports of Least Developed Countries (UNCTAD list) and States to register for this program.
Related Training Information